PARTNERS IN DISCOVERY
We are committed to rapidly advancing our leading RNA-targeted technology platforms and pipeline through a diversified research and development portfolio that is balanced between Sarepta-retained programs and strategic partnerships with biopharmaceutical companies.
Our RNA-targeted technologies and PMO-based chemistries combine to make a versatile research and development platform with broad applicability across multiple therapeutic categories, and hold the promise of supporting development of potentially transformative treatment options for previously intractable diseases.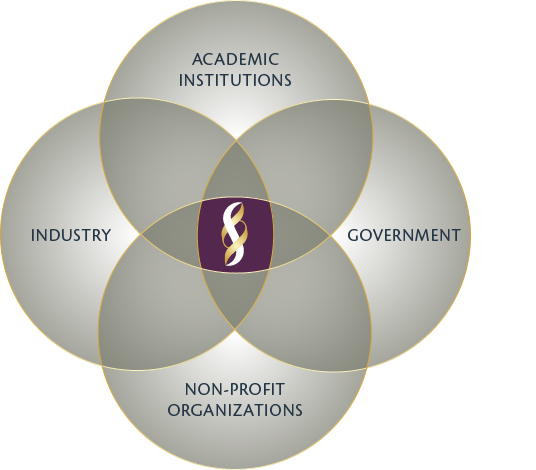 Beyond strategic partnerships with industry, we maintain a continuing interest in establishing collaborative research agreements with academia, government and non-governmental organizations.
To learn more about partnering and collaboration opportunities with Sarepta, please contact us at partnering@sarepta.com.
ACTIVE PARTNERSHIPS
MURDOCH UNIVERSITY
In 2015, we entered into a four-year collaborative research agreement to establish the Sarepta Translational Laboratory with Murdoch University, Perth, Western Australia. The laboratory, led by Murdoch University professors, Steve Wilton Ph.D. and Sue Fletcher, Ph.D., will explore the applicability of the Company's phosphorodiamidate morpholino oligomer (PMO) technology for rare neuromuscular and CNS diseases. As part of the collaborative agreement, Sarepta will have exclusive rights to license technology and/or products resulting from the research projects.
NATIONAL INSTITUTE OF ALLERGY AND INFECTIOUS DISEASES
In 2012, we entered into a Clinical Trial Agreement (CTA) with the National Institute of Allergy and Infectious Diseases (NIAID) of the National Institutes of Health. Under the CTA, NIAID researchers will conduct a Phase I clinical study of AVI-7100, our lead drug candidate with a novel mechanism of action and potentially broad-spectrum activity against influenza viruses.
SKIP-NMD
In 2012, we entered into the SKIP-NMD collaboration with the Dubowitz Neuromuscular Center, a multidisciplinary clinical and research service in pediatric neuromuscular disorders based in The Institute of Child Health at the University College London (UCL). Under the agreement, we are collaborating with Professor Francesco Muntoni, a UCL scientist and clinician, and researchers at other institutions in Europe to conduct a clinical proof-of-concept study in boys with DMD amenable to skipping exon 53. SKIP-NMD is funded by an E.U. FP7 health innovation collaborative research grant.
UNIVERSITY OF WESTERN AUSTRALIA
In 2013, we entered into an exclusive, worldwide licensing agreement with the University of Western Australia (UWA) for intellectual property rights to support the development of exon-skipping drug candidates for the treatment of Duchenne muscular dystrophy (DMD). The agreement grants us rights to UWA's extensive patent portfolio in DMD and enables us to build out our exon-skipping pipeline with new candidates to address the majority of patients with DMD worldwide.