A Playbook for Sustainable Gene Therapy Manufacturing
At the intersection of scientific opportunity and possibility, Sarepta's Jia Zhang works to write a playbook for building sustainable, scalable gene therapy manufacturing
Scaling up production to meet the needs of patients takes the work of a team. Jia Zhang, associate director, Process Analytics, leads a cross-functional effort to establish testing methods used during the manufacturing process across Sarepta's gene therapy portfolio.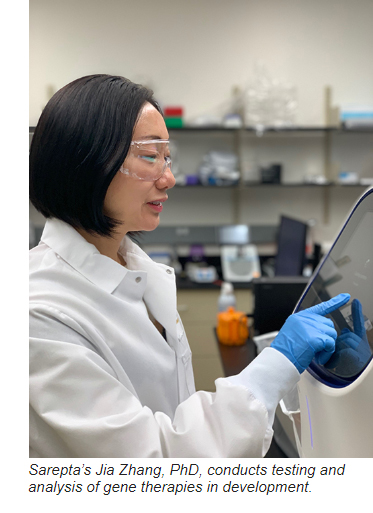 Jia Zhang, Ph.D., sits at an important intersection. It's a familiar seat – the task of taking scientific promise and turning it into reality – even if the view is different. After working at the University of Pennsylvania in Dr. James Wilson's lab, where seminal work on the use of adeno-associated viruses to deliver gene therapy was performed, today Jia serves as the associate director of Process Analytics at Sarepta. She and her team work to help develop processes for commercial-scale manufacturing. 
"My work experience at Penn was a cross-section of interacting with academic, biotech and big and small pharma companies. I was focused on pre-clinical and translational research in gene therapy, but increasingly was curious about the overall drug development process – especially late-stage drug substance development. This is an important step in the process to get genetic medicine to patients with rare diseases. It's a thrill to be able to contribute to this critical stage," says Jia. 
"I'm a firm believer in gene therapy technology and how quickly it can translate into potential therapies with the hope to impact patients' lives. It's not often that you can connect your work directly to impact on the patient."
To create a sustainable supply, companies must define processes to manage the transition from the small-scale production of drugs for clinical trials to commercial-scale manufacturing capacity to support patient needs once a therapy is approved. Jia's combination of skills and interests were a perfect fit for Sarepta when she joined the company in late 2018. Today, she leads a team focused on transitioning small-scale, research-grade plasmids to late-stage, large-scale production at good manufacturing practice (GMP) standards. Jia's team is also developing analytics to test product during the manufacturing process for the company's gene therapy portfolio.  
Another role of Jia's team is to analyze the attributes of samples prior to and during the manufacturing process in a way that supports the high volumes required for commercialization. This helps ensure that our manufacturing process is reliable and robust, and that finished product can be delivered to patients consistently. The team has developed, transferred and adapted numerous analytical methods uniquely tailored for gene therapy process analytics.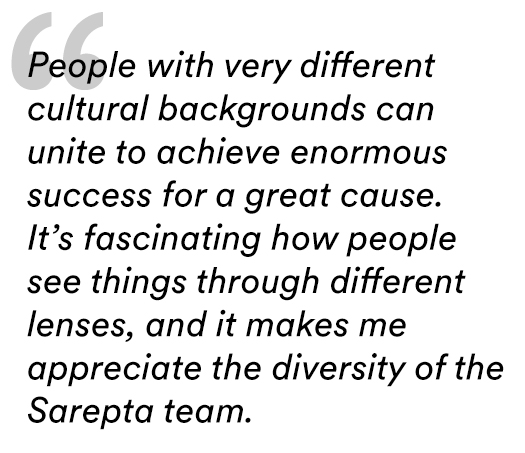 "We're working to distinguish ourselves as a leader in gene therapy by establishing processes that meet the highest possible standards. We're taking a phased approach to manage timelines, resources and desire for industry-leading standards," says Jia. 
"I have always had broad interests and it was hard for me to commit to a science major when I started college. Aside from science, history is one of my favorite topics, as it shapes my mindset that people with very different cultural backgrounds can unite to achieve enormous success for a great cause. It's fascinating how people see things through different lenses, and it makes me appreciate the diversity of the Sarepta team." 
Jia acknowledges that the daily challenges that come with the job are not for the faint of heart. "We ask prospective candidates to think through how they exercise flexibility, troubleshoot and operate under stress, as those are important attributes for the work we do. At the same time, we enjoy working as a team and addressing critical tasks. We support one another but give people the freedom to operate. The people are often more important than the task. Working in a team as creative and collaborative as ours has been an incredible experience."
Even with the impact of her work advancing the science of gene therapy, Jia considers one of her biggest achievements being a working mom. "I made the transition from academia to industry and had one week in between jobs. I had a three-year-old at the time and was moving the family to a new city. He's now five and wants to be a scientist. I think about what I'll tell him about what it takes to be successful, and it's to be resilient to failures. The key is to relentlessly push and pursue what's important and have an immunity to failure." 
Useful links