Room to Grow – From Sarepta Intern to Making Impact on the Pipeline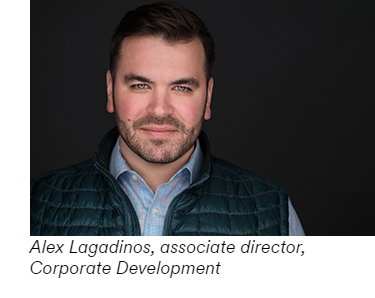 When Alex Lagadinos completed his Ph.D. in Virology in 2013, he knew he didn't want to continue on the academic research path. "While it was interesting intellectually, I was missing that connection between the science and developing a medicine," says Alex.  
Alex enrolled in the Keck Graduate Institute (KGI) in California, where he learned about the drug development process and gained the business acumen needed to transition to other areas of the industry. Through KGI, he was exposed to multiple pharmaceutical and biotech companies — including Sarepta.
In 2014, Alex Lagadinos joined Sarepta as a summer intern with the Business Development (BD) team. Six years later, as associate director of Corporate Development, Alex has been instrumental in expanding Sarepta's scientific capabilities through strategic partnerships.  
"I didn't fully understand what BD was before I started the internship," Alex says. "It turned out to be a perfect fit for my skill set and interests." 
After the internship, Alex transitioned into a full-time position as senior associate, Business Development. Alex's role has evolved over the years, beginning with conducting market research and analysis, then taking on a project manager role, and more recently becoming involved in Alliance Management. 
"I'm appreciative of the flexibility I was given, to shape my role and pursue my interests within these different areas," says Alex. 
  
Today, Alex conducts due diligence for potential transactions, leads negotiations and executes agreements with the legal team, and manages ongoing partnerships. 
"A large part of what the BD does is listen to what the organization needs and seek that out," he says.   
Most recently, Alex led the development of a creative strategic collaboration with the University of Florida to enable cutting-edge research for novel genetic medicine through the funding of multiple innovative research programs. The goal of this agreement is to foster early relationships with experts and accelerate the scientific advancements that lead to the development of precision genetic medicines for patients in need. 
The four projects include exploratory research in novel gene therapy vectors, next generation capsids and gene editing technologies as well as work in new therapeutics areas in degenerative genetic diseases. This collaboration is a part of our broader strategy to build an enduring model, by incubating innovative research programs that anticipate the future for successful administration of therapies across a spectrum of genetic diseases.  
This project is just one example of how the BD team has found new ways to help build on Sarepta's strengths and look to the future, to ultimately serve patients in need.  
For Alex, the past five years at Sarepta have been characterized by a shared mentality among his colleagues — one that encourages taking on new challenges and has allowed Alex to define and evolve his role.  
"I've been given many opportunities at Sarepta, some of which would be considered risks in some people's minds, because I'm not the traditional type of person who would fit these roles," says Alex. 
 
"While BD traditionally calls for finance experience or an MBA, Sarepta is open to people from different backgrounds, in particular when they bring a passion for the science and unconventional thinking," he says.  
"Sarepta is eager to empower people to think creatively and be curious."
Learn more about what it's like to work at Sarepta and meet some of our team members: www.sarepta.com/join-us