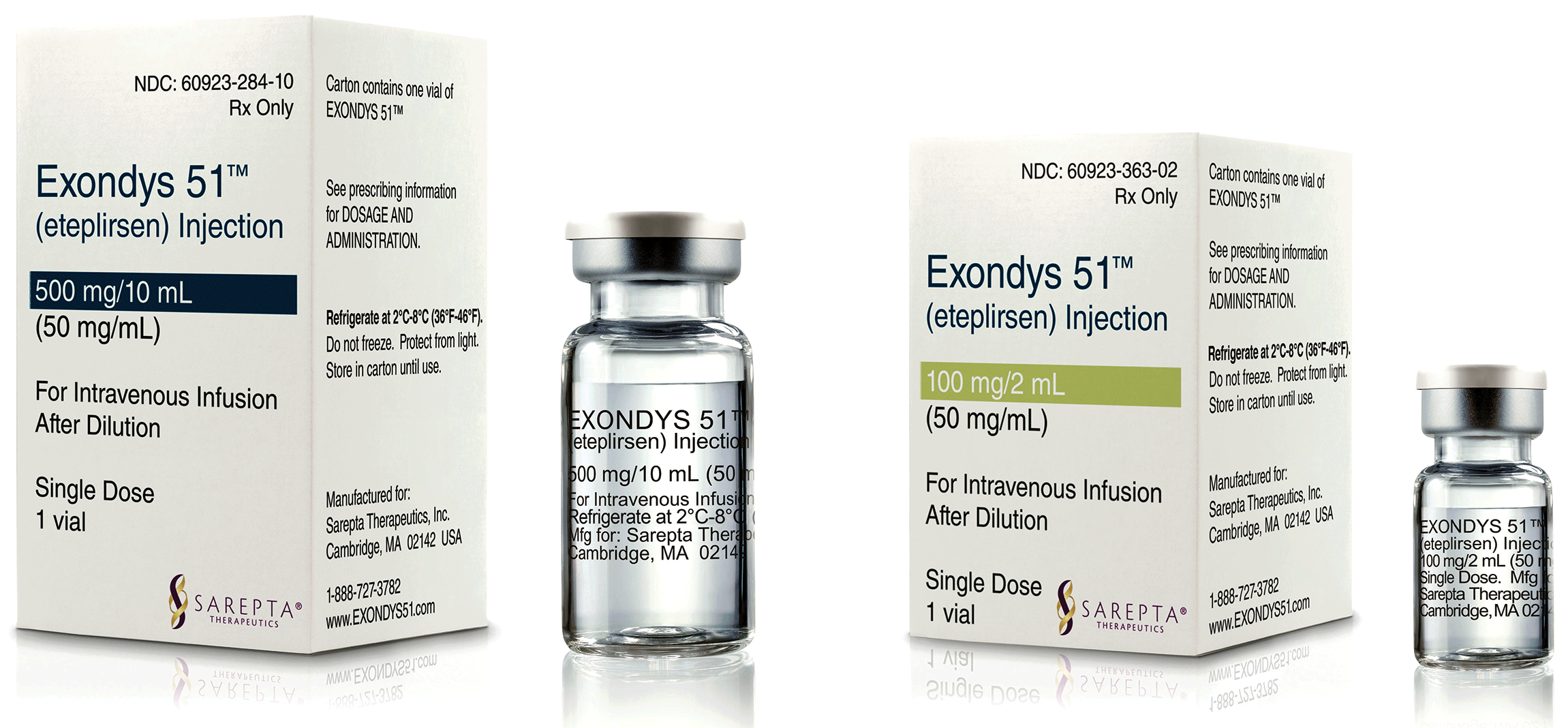 INDICATION
EXONDYS 51® is indicated for the treatment of Duchenne muscular dystrophy (DMD) in patients who have a confirmed mutation of the DMD gene that is amenable to exon 51 skipping. This indication is approved under accelerated approval based on an increase in dystrophin in skeletal muscle observed in some patients treated with EXONDYS 51. A clinical benefit of EXONDYS 51 has not been established. Continued approval for this indication may be contingent upon verification of a clinical benefit in confirmatory trials.
IMPORTANT SAFETY INFORMATION
Adverse reactions in DMD patients (N=8) treated with 30 or 50 mg/kg/week intravenous (IV) infusion of EXONDYS 51 with incidence of at least 25% more than placebo (N=4) (Study 1, 24 weeks) were (EXONDYS 51, placebo): balance disorder (38%, 0%), vomiting (38%, 0%) and contact dermatitis (25%, 0%). The most common adverse reactions were balance disorder and vomiting. Because of the small numbers of patients, these represent crude frequencies that may not reflect the frequencies observed in practice. The 50 mg/kg once weekly dosing regimen of EXONDYS 51 is not recommended.
In the 88 patients who received ≥30 mg/kg/week of EXONDYS 51 for up to 208 weeks in clinical studies, the following events were reported in ≥10% of patients and occurred more frequently than on the same dose in Study 1: vomiting, contusion, excoriation, arthralgia, rash, catheter site pain, and upper respiratory tract infection.
There have been reports of transient erythema, facial flushing, and elevated temperature occurring on the day of EXONDYS 51 infusion.
Please see the full Prescribing Information for EXONDYS 51.