Ohio recently became the first state to require all newborns be screened for Duchenne muscular dystrophy. For Newborn Screening Awareness Month, we spoke to Jason Dempsey, a Duchenne advocate and dad who worked to advance Duchenne newborn screening in Ohio. He now is using his voice to urge more states to expand their newborn screening programs to include Duchenne.
In spring 2023, Jason Dempsey stood at a podium in the Ohio Statehouse and broke into song. "Hey Jude, don't make it bad," he sang. "Take a sad song and make it better."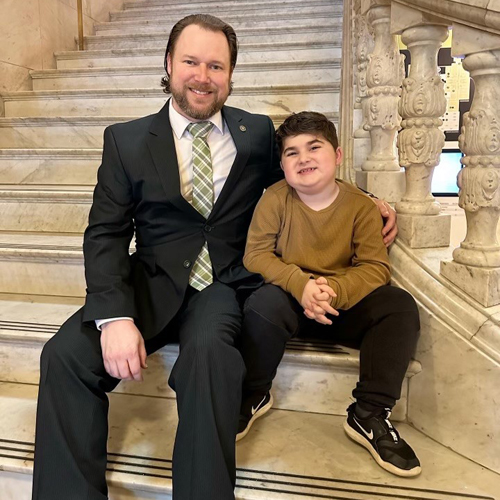 Dempsey was singing for – and about – his son, Jude, who was diagnosed with Duchenne muscular dystrophy at 6 years old. Now 8, Jude's disease has progressed to the point that walking is difficult, and he relies on a motorized scooter to get around. With Jude parked at his side, Dempsey shared his family's Duchenne story with Ohio legislators. 
"Ours is a story of a long diagnosis," he said. "I wonder if daily life would be different if we knew sooner. What if we knew at 2.5 years old? Or when he first missed developmental milestones? Or at birth, before we noticed anything?"
When Jude was diagnosed, after years of doctor visits, missed opportunities and permanent muscle degeneration, Dempsey said he felt powerless. "There was nothing I could do to fix this for him, and I struggled with that," he recalled. "Then I realized, I don't have much, but I have a voice. I can use my voice to talk about what happened to us."
Dempsey became a passionate advocate for Duchenne newborn screening, which is how he came to testify at the Statehouse. Thanks to his testimony and the efforts of other Duchenne advocates, Ohio became the first state to require all babies be screened for Duchenne. 
Now, with success in Ohio and progress in bringing Duchenne newborn screening to more states, Dempsey said this year's Newborn Screening Awareness Month takes on special meaning. "We had a great win, but we're not done yet," he said. "I'm looking to use my voice however I can because I don't want another family to go through what we did."
About newborn screening in the U.S.
Newborn screening programs are state-run public health programs that annually reach 4 million newborns. Each year, 12,500 babies have a condition detected through newborn screening and are given the opportunity for treatment as early as possible.1 Through a simple heel-prick, the screening tests every newborn for a variety of genetic, metabolic, hormonal and functional conditions that are not otherwise apparent at birth. Newborn screening, which was developed to provide more equitable access to early diagnosis, is considered by many to be the nation's most successful public health program.
Newborn screening is especially important in Duchenne because of the progressive nature of the disease. "Children lose muscle with each passing day," said Diane Berry, PhD, Chief Global Policy & Advocacy Officer at Sarepta. "Early diagnosis and access to care is imperative. Newborn screening is an important step toward ensuring all families have the opportunity for early diagnosis and the best chance for improved outcomes." 
Missed milestones and a delayed diagnosis
Dempsey first suspected there may be an issue when Jude was slow to crawl and walk. "We brought it up to his pediatrician, but she said, 'if he's got some place to go, he'll walk.'" 
And Jude eventually did walk. Around 2.5 years, however, Dempsey noticed that Jude was walking on his tiptoes. Toe walking is a common Duchenne symptom and caused by weakening leg muscles. Jude's healthcare providers did not flag it as a concern, and so no testing or follow-up was recommended. It wasn't until four years later, when Jude was 6, that a physical therapist suggested a genetic test to rule out Duchenne. Dempsey thought nothing of it and was shocked when the test confirmed that Jude had the disease.
Newborn Screening Quick Facts
Newborn screening programs are state-run public health programs.
Each year, approximately 12,500 babies have a condition detected through newborn screening.
All 50 states have newborn screening programs.
As of today, only one state requires screening for Duchenne.
There is an FDA-authorized laboratory test for Duchenne newborn screening that leverages the same blood spots already collected at birth.
More than 80 percent of treating physicians indicate there is a benefit to conducting newborn screening for Duchenne.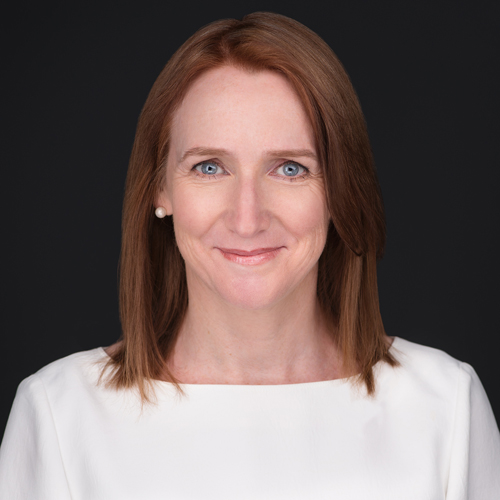 Accelerating the Duchenne diagnostic journey
The Dempseys are not alone in their long journey to a diagnosis. Despite advances in testing and disease detection, the average age of Duchenne diagnosis – about 5 years old – has remained unchanged for 30 years.2
And this even though parents are raising alarms: The average time between parents first noticing symptoms and a child receiving a definitive Duchenne diagnosis is more than 2 years3; and significantly longer for families of color. More than two years separate the average age of diagnosis for black and white youth.4
"Newborn screening could help eliminate racial disparities and give all families the information they need to make informed decisions about their child's care," said Berry, noting that there are six FDA-approved treatments for Duchenne, with interventions available to children in infancy.  More than 80 percent of treating physicians indicate there is a benefit to conducting newborn screening for Duchenne.5 There is even an FDA-authorized laboratory test for Duchenne newborn screening that leverages the same blood spots already collected at birth. 
For all these reasons, adding Duchenne to every state's newborn screening program seems a "no brainer" to Dempsey. And that is why he's committed to sharing his story more broadly to help bring Duchenne newborn screening to every state.  
Expanding newborn screening programs
In some states, the conditions included in the newborn screening panel are based on recommendations from a federal advisory committee, the Advisory Committee on Heritable Disorders in Newborns and Children (ACHDNC). The list of recommended conditions is known as the Recommended Uniform Screening Panel (RUSP) and adding Duchenne to the RUSP has been a long-time focus of Duchenne advocates. 
"Science and technology have advanced to enable earlier detection and intervention," Berry said. "New treatment options have the potential to change life trajectories for people impacted by Duchenne. Doesn't every family deserve the opportunity of knowledge and choice?"
Parent Project Muscular Dystrophy (PPMD), with co-sponsor Muscular Dystrophy Association (MDA), first submitted a nomination package requesting that Duchenne be added to the RUSP back in June 2022. In August 2023, the nomination passed the first step in the ACHDNC process: the committee voted to move the Duchenne package to the more extensive Evidence-based Review. A final decision is expected in 2024.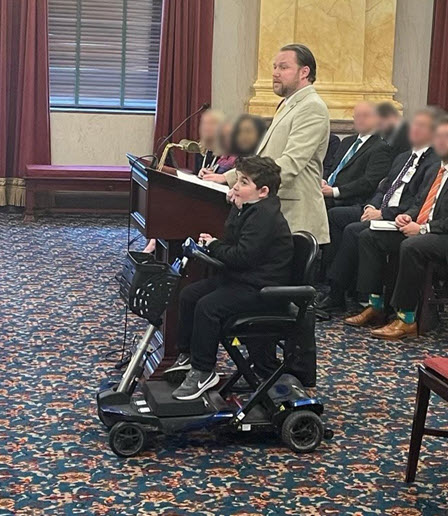 However, this does not guarantee that newborn screening will be available to all newborns: Some states have laws that require them to follow the RUSP; but for most states, the RUSP is just a recommendation, and each state makes its own decision as to what to include on its newborn screening panel. Even in those states that follow the RUSP, it will take states two to three years to add a new condition – and usually only if funding is allocated from the legislature. 
In those states that consider conditions independent of the RUSP, either new legislation or submission through a newborn screening advisory committee panel can add Duchenne to the newborn screening panel. That's why Dempsey and other Duchenne advocates are supporting state-level efforts to expand newborn screening. 
Dempsey said he'll keep raising his voice as long as people listen. In addition to helping future Duchenne families, the advocacy has been empowering for him and Jude. "Newborn screening may not help Jude, but it is teaching him the importance of speaking up for those who can't speak for themselves," he said. "Someday, there will be more states screening for Duchenne, and we can look back and say, 'we helped do that. We were a part of that.'"
References
1. "How many newborns are screened in the United States?" National Institutes of Health. Accessed September 5, 2023. https://www.nichd.nih.gov/health/topics/newborn/conditioninfo/infants-screened#f5
2.Thomas S, et al. Muscle Nerve. 2022 Aug;66(2):193-197. doi: 10.1002/mus.27532. Epub 2022 Apr 11. PMID: 35312090; PMCID: PMC9308714.
3. Ciafaloni E, et al. J Pediatr. 2009;155(3):380-5. 
4. Mann JR , et al.Neuroepidemiology. 2023 Jan 9. doi: 10.1159/000528962. Epub ahead of print. PMID: 36623491.
5. Armstrong N, et al. Am J Med Genet C Semin Med Genet. 2022 Jun;190(2):162-168.