Duchenne muscular dystrophy patients and their families face a host of challenges that extend beyond managing the disease. After their sons' respective diagnoses, Marissa Penrod and Kelly Maynard set out to make positive changes to help others.
Marissa Penrod's son Joseph was five when he was diagnosed with Duchenne muscular dystrophy in 2008. Four years later, Kelly Maynard's youngest, Jackson, received his own Duchenne diagnosis at the same age. 
When families first learn of a diagnosis of Duchenne, the information is new and frightening with concepts such as loss of ambulation and average life expectancy. It is a devastating diagnosis.
Marissa knew right away that, although Joseph's diagnosis meant she'd have to navigate through an entirely new and unfamiliar world, there were still elements in her control, namely how she responded to her son's diagnosis.
"It wasn't whether or not we had Duchenne – because I would have loved to give it back. I don't want this diagnosis, but that's not an option. We can't choose the cards we've been dealt, but we can choose how we play our hand," she says. "No matter what the outcome is for Joseph, I want to be able to tell him that we left no stone unturned."
For Kelly, the first response to Jackson's diagnosis was to jump online and begin digging for information, searching for hopeful news.
"You're just rabid about finding anything out there that may be the answer that you're seeking," she explains. But it wasn't until she attended her first Parent Project Muscular Dystrophy conference that she felt the first rays of hope.
"That was the first time I thought, 'Okay. We're going to be okay,' because I see all these other families and they're doing it," she says. "I see these older boys and they're all in power chairs, but they were happy and having fun. And I so needed to see that. And it was at that point that someone said to me, 'You're going to be okay. You guys are going to be okay.'"
After their initial struggles to comprehend the life-changing news, each mom came separately to the same place: a steely determination to change the Duchenne landscape for their own families and for others. In the process, they've helped hundreds of other Duchenne families.
The Creation of Team Joseph to Pave a New Path for Families Affected by Duchenne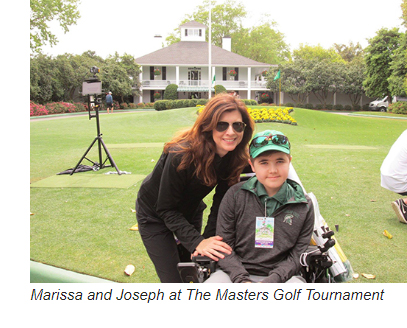 Marissa Penrod was a stay-at-home mom running a household of three children when her youngest, Joseph, was diagnosed. A former teacher with a background in public relations and advertising, Marissa remembers a neurologist bombarding her with negative statistics on the day of Joseph's diagnosis – loss of ambulation between age 10 and 12, life expectancy in the early 20s, the lack of treatment, let alone a cure. But, she quickly realized, statistics only look backwards.
"Statistics, they're just a compilation of the history of something, right? When you think about stats in the sports world, it's what's already happened. But what's going to happen tomorrow? There are no statistics for that," she says. "So everything that neurologist told me was what has happened in the past in Duchenne. Why can't we help create the future? Why can't we change the statistics of what this looks like?"
That prompted Marissa to reconsider her professional résumé with an eye toward doing just that -- raising funds to back early-stage research.
"I started looking at all my experiences in the workforce and realized how they were going to come together to help me create Team Joseph. Telling the story, raising money, asking people to participate – it kind of all came full circle for me when I decided to throw myself into starting a nonprofit," Marissa recalls.
The early days of Team Joseph saw it focus on fundraising for research, but Marissa realized that a Duchenne diagnosis places unforeseen financial, employment and healthcare challenges on patients and their families. As a single mom facing the usual challenges of life as children grow and parents age, plus the disease's additional burdens, she wondered how less fortunate families could possibly cope.
"I had a moment one night and I thought, 'There's got to be people struggling worse than I am,'" Marissa recalls. "I used to sit at the end of the day and think, 'How do people navigate this disease if they don't have good health insurance, if they don't have a supportive community, if they don't have resources? How do people navigate this disease if they have other horrible things going on in their world other than Duchenne?'" 
Subsequent conversations with physicians around the country revealed that the impacts were profound, ranging from patients missing medical appointments for lack of transportation, to job loss from the responsibilities of caregiving, to inability to get essential medical equipment. 
"I just started having this ache in my gut that we can't allow caring for a child with a catastrophic disease to be dependent on socioeconomic capabilities. We can't make that elitist. It cannot be a function of your finances," Marissa says, noting a more practical consequence as well: families struggling to meet basic needs aren't likely to take on the extra burden of enrolling in a clinical trial.
"If we're not helping people with day-to-day needs, that's going to impact the way that we're able to move the science forward," she explains. "The other thing is, it's just the right thing to do. We have to help each other." 
A Career in Public Service Leads to the Creation of Little Hercules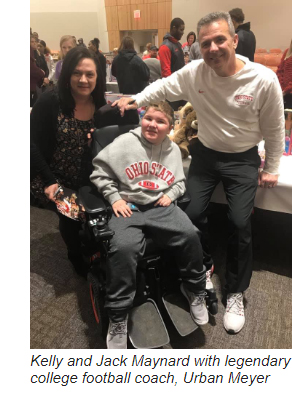 As Marissa's realization began to expand the scope of her ambitions for Team Joseph, 200 miles away in Ohio, Jackson's May 2012 diagnosis forced Kelly Maynard and her family to consider their future in a stark and radically different light. 
"My daughter was going to college and my middle son was just so healthy, and this just really blew everything apart. It felt like such a dark cloud hanging over our heads. And as time went on, I realized that I was going to have to step in and do something for my son and be a voice for him. And I didn't really know what that looked like," Kelly recalls.
Working for the Ohio Department of Insurance at the time, she started a non-profit called the Little Hercules Foundation to begin hosting small fundraisers to back early-stage research projects that weren't yet on industry's radar. In June 2014, Kelly retired after 20 years of service in state government to run Little Hercules full time. Her work experience would prove crucial to informing the foundation's mission.
"When you work for government, you have this feeling of service and serving the public. I love that. I wanted to be the part of government that, when people came in contact with me, I made them feel as if they were heard and their problems were addressed," Kelly says. "The technical aspect of the work, I had no idea at the time, was going to serve me well. Just an understanding how government regulation works and how policy-making works, and how that process impacts families and patients."
Other Duchenne families, hearing about her background, soon began asking Kelly about navigating government services – especially the healthcare insurance labyrinth – and, like Marissa, Kelly started hearing the burdens of families involving massive medical bills and lost jobs.
"And I thought to myself, 'This cannot be real life. Are families facing homelessness because their sons are in the hospital for pneumonia? Or a major surgery? Or a cardiac event?' And the answer is yes, that was really happening. Hardworking families were facing this," she remembers. 
Kelly noticed posts on social media about insurance denying coverage for therapy.
"I realized that we've got a serious access problem, so initially I just started jumping in and helping these families fight these insurance denials, because I had a background in this. And then it got to a point where I couldn't continue to do it on my own because it became so much, the need was so much greater than I could do on my own," she says. 
Organizations Join Forces to Create Duchenne Family Assistance Program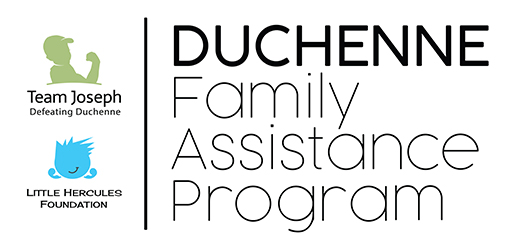 One day, at a Duchenne conference some time in 2016, Marissa and Kelly got to talking about the best way to help the Duchenne community. Although their respective foundations were helping people – Team Joseph concentrates on everyday needs of life with Duchenne, while Little Hercules focuses much of its efforts toward influencing health policy -- they both realized that there was so much more to do.
"We were talking one day and I said, 'This is really bothering me. There's got to be a way we can help,'" Marissa remembers. "And she had been having similar thoughts. And we just started talking about what could this look like, and that's where it came from."
"Marissa and I talked about it and said, 'What would a family assistance program look like? What services would we offer?' And we compared it with all the other programs out there and said, 'We've got families in real crisis situations. How are we going to develop a program that makes life better, and easier for them?'" adds Kelly.
From that conversation sprouted the Duchenne Family Assistance Program, a joint effort between Team Joseph and Little Hercules.* In the 20 months since its official launch in April 2018, the program has helped more than 500 families deal with issues ranging from installing wheelchair access and specialized equipment, to transportation for medical appointments, to overturning insurance denials.
"This is a no-judgment zone. We know what life you live, and we're going to do everything possible to make life a little bit better for you. And if that means preventing all of your utilities from being shut off, or if it means a little help at Christmastime because you found yourself in a situation, if it means we're going to find that government program out there that will help you get a home health aide," notes Kelly. "It is the only program of its kind that provides this level of assistance to families with Duchenne."
The impact reaches beyond the merely practical, adds Marissa.
"The thing that we could never quantify is it just helps people feel like they're not in this alone. And you know, this is a tough, long journey and I think there are a lot of people who are really suffering in silence and feel hopeless and lonely and they don't know what to do next or where to turn. And if nothing else, we just want people to know that we're here to help and they don't have to do it alone."
*Team Joseph and Little Hercules received grant funding from Sarepta Therapeutics to support the Duchenne Family Assistance Program.
Resources:
Families in need of assistance can go to: