Precision genetic medicine is the heart of Sarepta's science – finding new ways to treat serious rare diseases is a key part of our mission. One of the company's RNA researchers draws on deep family connections to the arts to inform his approach.
An early immersion in film, music and dance translates into the lab in surprising ways for one of Sarepta's RNA researchers.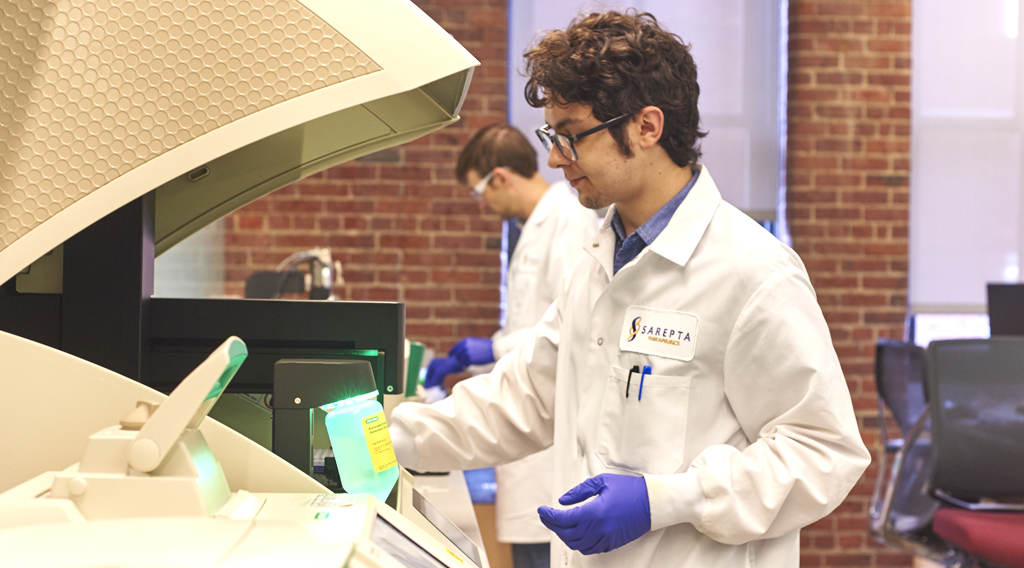 Nino Jungels broke the mold when he chose the scientific life after growing up in a family of artists. Apart from the family-owned dance studio, Nino's early influences included a film-professor grandfather and a dance-instructor grandmother—not to mention years of experience playing the piano.
A week after graduating with an undergraduate degree in biology from Brown University, Nino joined Sarepta as a research associate in the RNA laboratory. Today, he works in the biology group, serving as a bridge between the chemistry group where drugs are discovered and the pre-clinical team, where the company's proprietary exon-skipping compounds undergo early testing.
His work, which is centered on testing exon-skipping compounds for treatment of rare diseases including rare forms of Duchenne muscular dystrophy, draws in part on early lessons imparted by his family.
"My grandfather would host 'writing club' and give us a topic and 30 minutes to write about it. That curiosity pushed me to look at things from different perspectives. For me, my world view has always been that of a scientist, I approach things very logically and try to focus on reason and fact," Nino explains.
All the years of piano provided a dexterity and agility that translates directly to the lab, where Nino processes RTPCR (reverse transcription polymerase chain reaction), DDPCR (droplet digital polymerase chain reaction) and western blot tests, he adds.
"I remember being asked during my interview, 'What skills would allow you to contribute in the lab right away?' I was a new college grad with limited experience, so to differentiate myself, I said, 'I have good hand skills,'" says Nino. "If I wasn't working at Sarepta I'd either be in graduate school or making pastries."
Validated western blot testing is the gold standard for assessing whether there is protein expression in cells or tissues. In diseases involving the lack of specific proteins—such as Duchenne muscular dystrophy, which is caused by a lack of dystrophin; or Limb-girdle muscular dystrophy type 2E, in which patients lack the beta-sarcoglycan protein—a marker is used to determine whether a compound has activity. The amount of activity is determined by how much protein is expressed, as measured by western blot. Consistently reproducing high-quality expression results with this method requires technical skill and manual dexterity.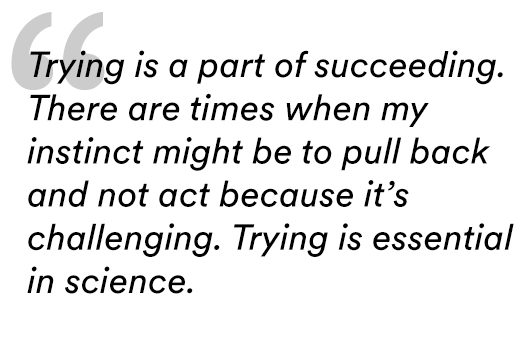 "The work in the lab that I enjoy most are the things that challenge me. Western blots are challenging, even in the hands of the most skilled practitioner—particularly the wet transfer process. That involves carefully removing a delicate gel from its cassette and layering it into what we call a 'sandwich' of sponges, filter papers, and a PVDF membrane, all set between two plates. Western blots are a three-day process, and the transfer comes at the end of the first and longest day. Breaking a gel at this point can be very frustrating, and I definitely broke a number of gels at the beginning of my work in the lab," Nino notes.
The curiosity he inspired by his grandfather's writing seminar prompted him to approach the problem from a different perspective. "I sought out other scientists to understand their transfer technique and what worked for them," he recalls. "I was able to develop my own technique, that worked for me."
That persistence in perfecting his western blot transfer technique aligns with a life philosophy for Nino and with Sarepta's core values.
"Trying is a part of succeeding. There are times when my instinct might be to pull back and not act or not do something I want to do because it's challenging. Trying is essential in science. You can't predict what will happen when you start an experiment. All you have is a hypothesis and experiment to see if it's right," Nino says. "Rare diseases like DMD are awful, and that drives employees to have a bias to act—to move things along and not let things linger. Sometimes it's the day-to-day, small ways we move the process forward. We can't let barriers stop us from our goal of advancing potential therapies with a goal of saving lives."
Given the serious nature of the work, having fun is an equally important part of the job. "I have colleagues who, when something goes wrong, they make me laugh in a moment when I don't want to laugh. They keep the spirits up when we're working hard," he says.