Rachael Potter, Ph.D., is executive director and head of Gene Therapy Research at Sarepta. Rachael oversees pre-clinical development and translation to clinical trial of gene therapy for neuromuscular disorders at our Genetic Therapies Center of Excellence (GTCOE) in Columbus, Ohio. We're sharing her journey to Sarepta and her commitment to drag tomorrow into today as part of a series exploring the people and stories behind Sarepta's genetic medicine revolution.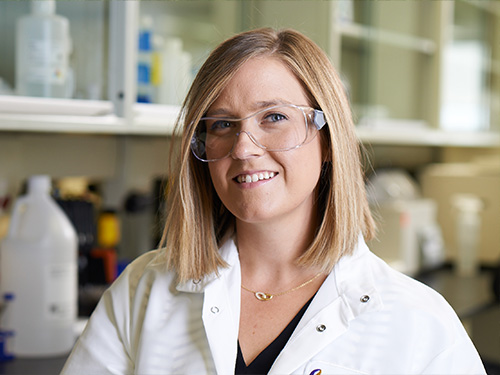 Growing up, Rachael Potter was a competitive runner. She ran varsity track and cross country in high school and college. But with all those training miles came a few injuries, and she spent time in physical therapy. Eager as she was to get back to running, Rachael found the rehab process fascinating from a scientific perspective. "I always loved learning about how people move and how muscles work," she recalled. "Then I started to dig deeper and started wondering, what's happening inside the muscle cells and how does that repair system work? And why doesn't it work in some people?" 
That interest led Rachael to obtain a Ph.D. in Exercise Science studying the molecular pathways associated with muscle atrophy, and eventually a position as a post-doctoral research scientist in a translational gene therapy laboratory at Nationwide Children's Hospital in Columbus, Ohio. There, she began working with a team dedicated to evaluating gene therapy-based therapeutics for Duchenne muscular dystrophy and limb-girdle muscular dystrophy. She was mentored by Louise Rodino-Klapac, Ph.D., now Sarepta's Head of R&D and Chief Scientific Officer, studying gene delivery using AAVrh74 for Duchenne and limb-girdle. (AAVrh74 is an adeno-associated viral vector used to transport genetic material into cells.) Before long, Rachael was hooked.  "I knew this was where I wanted to focus," she said. "There is a sense of urgency in the neuromuscular field that is unmatched in any other field because of the lack of therapeutic opportunities available."
When an opportunity arose to join Sarepta's growing Columbus-based team in 2018, Rachael jumped at the chance to become a part of an organization that combined leading-edge science with uncompromising patient centricity. "Sarepta's mission is patient focused, and we drive innovative science forward every single day to bring these therapeutic approaches to patients," she explained. "It means tackling the hard days with new ideas, new thoughts, creativity, troubleshooting, understanding our failures and pushing scientific approaches forward."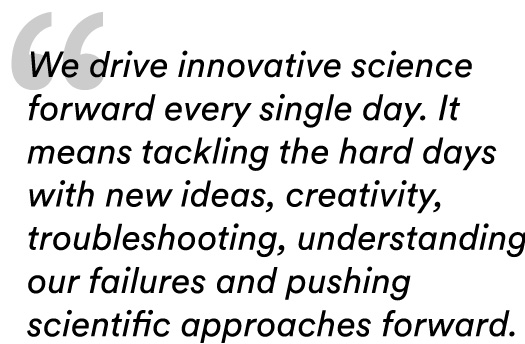 At the leading edge
Sarepta expanded its Columbus-based research and development capabilities and footprint in 2021 with the opening of the 85,000-square-foot state-of-the-art GTCOE facility. Rachael and the other scientists at the GTCOE are focused on discovery, pre-clinical and clinical development supporting Sarepta's pipeline of genetic medicines. That pipeline includes RNA, gene therapy and gene editing programs. The GTCOE also supports process development and optimization work that enables the transition from clinical-scale to commercial-scale manufacturing, a critical task facing companies developing gene therapies. 
In her role as head of Gene Therapy Research, Rachael wears many hats, overseeing everything from early-stage innovation and conceptual design of research programs to translation from research to clinical development. "Every day is a new opportunity and I get to learn something new every day.  We work hard to continually evolve and push the field forward," she said. "We dive head first into potential therapies and come out with new opportunities for the patient community across many disease indications."
Where science meets mission
Sarepta's leading pipeline candidate is a potential gene therapy for Duchenne muscular dystrophy, and Rachael has the unique experience of being involved with the program from its earliest pre-clinical days, through a first-in-human study, to now its pivotal study.  "I had the opportunity to meet some of the patients who were in the first trial for our investigational therapy SRP-9001 for the treatment of Duchenne muscular dystrophy," she recalled. "In meeting these boys and their families, it really brought the mission of patient-focused to the forefront. I was able to see the hope and excitement in the parents' and the boys' eyes, and it made me extremely excited about the opportunity as we move these transformative therapies forward."
It all comes back to the patients
While Rachael is excited about Sarepta's progress in various research programs, she cautions that tackling genetic rare diseases is not for the faint of heart, as setbacks are common in this challenging space.
"There are days in your scientific career that are difficult. However, in order to be a leader in science, you have to be willing to try and fail and try again," she explained. "We have learned a lot in the development process for gene therapy and continue to leverage learnings in order to drive the most innovative, cutting-edge science forward for precision genetic medicine approaches."
What keeps her going on those frustrating days? "It all comes back to those families and patients who have no treatment available and are looking towards the precision genetic medicine field with hope," she said. "That unmet need drives us to advance the science as quickly as we can. The hope I have for these patients is that we forge a path for transformative precision medicine for neuromuscular indications."