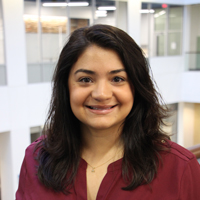 When Sarepta set out to establish its gene editing innovation center, the GEIC (pronounced geek), associate director, Gene Editing Research and Development Ami Kabadi embraced the name: "It appeals to the inner nerd in me." The daughter of a chemical engineer growing up in Greensboro, N.C., Kabadi participated in scouting, sports, student council and other extra-curricular activities. But it was in college that she fully embraced her aptitude for science and a life of working in a lab.
"In the lab, you really feel like you're contributing to something and get to see the fruits of your labor. There's discipline and skill, but there's also a certain amount of intuition and gut feeling about how well something might work," said Kabadi.
She was particularly intrigued by biology. "Cells are mini factories that do all these amazing things to keep us alive. When I learned that you can use engineering principles to manipulate cellular pathways – it blew my mind. Taking inspiration from nature, we can modify existing proteins to create new versions with improved, enhanced, or even novel functions for the betterment of human health," said Kabadi. "There's an engineering and tinkering component to the science. It's not art, but it has its own artistic elegance."
After graduating with an undergraduate degree in biology from Duke University, Kabadi pursued and earned her Ph.D. in biomedical engineering, also from Duke. Charles Gersbach, Ph.D., Rooney family associate professor of biomedical engineering, was her graduate school advisor and Kabadi was among the first cohort of graduate students in his lab.
Gersbach was attentive – checking in on the lab, the cells, and his students in the evenings. "It was just fun. Everyone felt driven by the work and we loved the science, but we really loved the lab culture," said Kabadi. "Graduate school is challenging, but when you have the right people around you it doesn't feel quite so difficult. I looked forward to coming to lab every day."
Sarepta and Gersbach had been collaborating on gene editing work for neuromuscular disease for several years when the company decided to establish the GEIC in Durham, N.C., to further support the collaboration. Kabadi was chosen to oversee day to day operations of the lab, working within Sarepta's Gene Therapy Center of Excellence (GTCoE) under the direction of Louise Rodino-Klapac, Ph.D., executive vice president of gene therapy and chief scientific officer.
Gersbach and other mentors had a significant impact on Kabadi's love of the lab and how she approaches operations at the GEIC. "My mentors were excited when my experiments went well and took the time to problem solve when things didn't go as planned. The collaboration and support were really powerful," said Kabadi. "I hope to foster that same productive, fun, and collaborative atmosphere that I've been fortunate enough to experience." 
After a combination of academic and industry experience in gene/epigenome editing, Kabadi joined Sarepta in May 2020. Continuing her work in the field, as well as the opportunity to collaborate with Gersbach again, were two important reasons for joining Sarepta – but Sarepta's collaborative and innovative environment was critical. "It was a perfect marriage of all things."
In selecting employees to help build the GEIC, collaboration was on par with scientific acumen. "I spend a lot of time thinking about the 'soft' attributes that help create a successful team dynamic. I want to sponsor the type of culture that creates fulfilment," said Kabadi. "Of course we're all driven individually, but it's the people we work with day in and day out who make the difference in our job satisfaction and impact our ultimate ability to achieve our lofty scientific goals, to deliver therapies to patients with debilitating diseases."
Although the COVID-19 pandemic has impacted the way employees are able to interact, Kabadi has been committed to bringing the work culture to the screen – between those working at the GEIC as well as the partnering teams led by Dr. Rodino-Klapac at the GTCoE in Ohio. "We are highly integrated with the team in Ohio and work hard to maintain that connectivity despite the pandemic. The GTCoE has a wealth of knowledge, experience, and capabilities that we fortunately get to be a part of, helping set the GEIC up for success from day one," said Kabadi.
With collaborators like Dr. Gersbach and Duke University, as well as the growing teams across the GEIC and GTCoE, Sarepta is advancing the company's research in another emerging area of medicine for rare diseases: gene editing.
Sarepta is committed to advancing the science of genetic-based medicines to reach as many patients as possible and, equipped with the company's growing gene transfer and RNA pipelines, is ready to bring the best minds together to address how to further develop more treatment options. 2020 has brought a number of industry collaborations that support this focus, including the recent research agreement between Sarepta and Genevant to design and develop lipid nanoparticles as a non-viral option for delivering gene editing cargo to target tissues.  
"Sarepta is a goal-driven organization with a clear mission to deliver therapies for patients. Companies are mission driven to varying degrees of success," said Kabadi. "Sarepta does mission and purpose really well. It helps unify us and fosters a collaborative and innovative environment that I'm thrilled to be a part of."