When Kate Pecora joined the Sarepta Patient Affairs team as a summer intern during college, she never imagined the three-month assignment would lead to a full-time position, the opportunity to make a dream move across the country, a promotion to manager and now the chance to mentor others. 
A few years after Kate interned, Katherine Sinars was excited to earn a spot in the 2022 class of Sarepta interns. She admits she did not have a deep understanding of the biotech industry or the role of patient affairs when she started her internship with Sarepta Patient Affairs; but almost immediately, she was hooked. One year later, Katherine is a full-time Sarepta colleague – with Kate her manager – and she is committed to making a difference in the lives of people impacted by rare genetic diseases.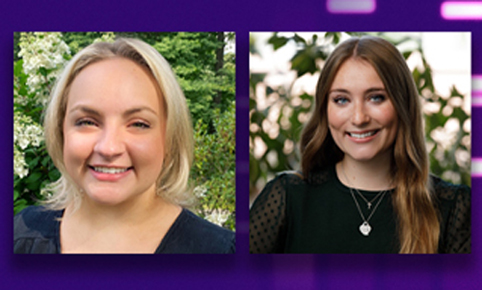 Both credit the internship program for setting them on a meaningful career path. "I say it all the time: I'm so lucky," Katherine said. "When I first started, I hadn't heard of Duchenne or limb-girdle muscular dystrophy, and now I can't imagine ever going back to a world where I'm not involved." 
"I look at the opportunities I've had and all the opportunities in front of me, and it's all because of the internship," Kate agreed. "As an employer, giving young people the opportunity to prove themselves is so meaningful. And as the recipient, I can say that it's an opportunity to change your whole life."
Empowering young talent
When Kate and Katherine first joined Sarepta Patient Affairs as interns, they were immersed in a culture that encourages all colleagues to embrace the company mission as their own, and they were welcomed to a team that is designed to support personal development. 
"The internship program has offered a key opportunity to infuse new perspective and skills into our team and to challenge existing employees to flex their emerging management skills," said Siobhan Fitzgerald, senior director of Patient Affairs. 
Reflecting on Patient Affairs conversion-from-intern-to-colleague 100% success rate, she added: "We chose Kate and Katherine for their skills, their self-starter tendencies, and something that I call heart – the feeling that they will not give up when things are down, they will embed well and with purpose, and they carry a very true connection to our mission. I believe they chose us for a number of reasons, but first was a will to make things better for people living with Duchenne and limb-girdle muscular dystrophies. To see them make connections to these communities, contribute to Sarepta's success in measurable and notable ways, and growing in their careers is incredibly satisfying to all who have been committed to them from the start." 
Unique patient-first environment
As members of the Patient Affairs team, Kate and Katherine play a vital role in listening to and amplifying the voice of patient communities within Sarepta. As members of the team that have direct interaction with families regularly, they are an important conduit for the company.  They carry insights related to  clinical trial burden, current community challenges, educational opportunities and more. Every day, they strive to make a meaningful impact on the lives of those affected by rare neuromuscular diseases.
When Kate joined Sarepta's first intern class in 2018, she was no stranger to rare disease communities and the importance of advocacy: She lives with a rare neuromuscular disease and had previously interned in government affairs in a healthcare organization. Even so, she was struck by Sarepta's unique commitment to putting patients first.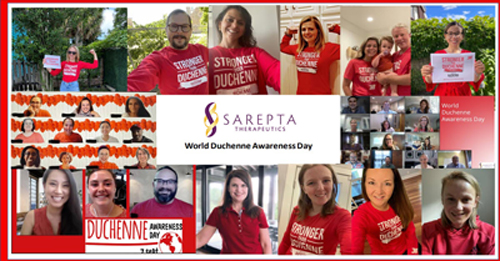 "I was surprised by how much people cared about the downstream impact of their work," she recalled. "As a past participant in a clinical trial, I know that people can sometimes feel a bit abandoned. At Sarepta, I saw the effort the clinical trial team put into making the trial experience a seamless one for patients and how much everyone cared about doing what's right for patients." 
Katherine also noticed the sense of responsibility that all colleagues – not only those who work directly with patients and their families – feel supporting rare disease communities. "Once I got here, it was so clear that every person, no matter their role, has a stake in helping patients," she said.
Shared values and purpose
Through their internships, Kate and Katherine felt like they had tapped into something special, and there was more they wanted to accomplish. For Katherine, attending a patient advocacy conference solidified her interest in Patient Affairs at Sarepta. "I got to meet families and see our work first-hand, and I realized this is what I want to do," she recalled. "This is a job where people actually care. Every single person in this company wants to help these families and these kids, and that is too special to let go of."
When her internship ended, Kate consulted mentors to discuss her career options. "Their advice to me was go where you have the most impact. Seeing Sarepta's pipeline, all the programs we have and the work we're doing for the Duchenne community, it was clear this was where I wanted to be," she said. "The values of Sarepta line up perfectly with my own: I want to be patient-first, innovative and I value urgency. I really didn't think I was going to find that combination anywhere else."
Learn more
Sarepta offers paid internships for college and graduate students majoring in STEM as well as non-science disciplines. Interns are introduced to Sarepta's business, research and culture through hands-on learning, independent projects, and a seminar series that exposes them to the roles and responsibilities of major functions within a biotech company. To learn more about our internship and other career opportunities, visit Join Us.