As executive director of Research Operations at Sarepta, Danielle Griffin oversees a team that supports research activities at our Genetic Therapies Center of Excellence (GTCOE) in Columbus, Ohio. In recognition of International Day of Women and Girls in Science, we're sharing her journey to Sarepta, learning how an early mentor helped changed the course of her career and hearing why she believes in female representation – and recognition – in science. This is one in an ongoing series exploring the people and stories behind Sarepta's genetic medicine revolution.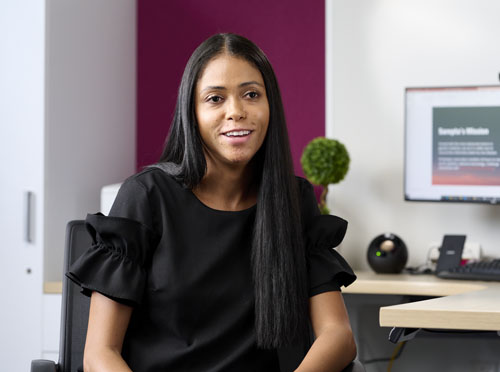 Danielle Griffin thought she was going to be a dentist. After graduating from college with a degree in Biology, she got a job as a research aide at Nationwide Children's Hospital (NCH) in Columbus and focused on studying for the Dental Admission Test. In a year or so, she figured she would be enrolled in dental school and her stint in the lab would be just a stop along the way. But it didn't work out that way: the people and science she encountered there ignited a passion for rare disease drug development and upended her career plans.
At NCH, Danielle was assigned to work in a lab investigating gene therapies for rare neuromuscular diseases, including Duchenne muscular dystrophy. "With the lab experience came many opportunities to meet patients and their families," Danielle recalled, adding that it was those interactions that led her to rethink her dental school plans and imagine a career in science. "The patient engagement is what did it for me. Knowing that they were desperately waiting, and that I could make a direct impact and potentially change their lives forever is why I pursued my career in science."
Supporting women in science
Danielle also credits a career-long mentor for guiding her to where she is today, and said it underscores the importance of mentorship for women in science. In her first lab at NCH, Danielle met Louise Rodino-Klapac, PhD, who was then a post-doctoral fellow and now serves as Sarepta's executive vice president, head of R&D and chief scientific officer. "Working among amazing scientists with brilliant ideas was a great learning experience, but also intimidating at times," Danielle said. "Louise did not treat me differently from her scientists, and she expected the same quality of research from me. She mentored me to think like a scientist, execute like a technician and plan like a businesswoman."
Supported and empowered, Danielle realized that while she didn't have the same experience as some of her peers, she brought her own unique and valuable skills to the lab. "I like to say I'm a scientist by experience, not by education. I wasn't on the traditional graduate-student-to-PhD track, but I had the initiative to carve out what I felt my strongest contribution to the lab could be," she explained.
Always putting patients first
When Dr. Rodino-Klapac joined Sarepta and the organization opened the GTCOE in Columbus, Danielle welcomed the opportunity to follow her mentor and help advance the science that she'd been working on for over a decade.
Today, Danielle and her team are responsible for "cutting out the noise that comes with science so that the researchers can truly focus on advancing the science," she said. That means overseeing the general operations that keep the labs running – everything from sample, equipment and inventory management to project management and financial planning.
Amid all that, she never loses sight of her "why": "It is patient first, and that is at the forefront of everything that we're doing," she explained. "The diseases that we work on are very degenerative. They take away the ability for our patients to walk and run, breathe, to live. It's heavy. And so no matter what I'm doing, I always keep that in mind. We all pitch in to get things done because we all have the same goal, same mission, same drive."
Inspiring bold women in science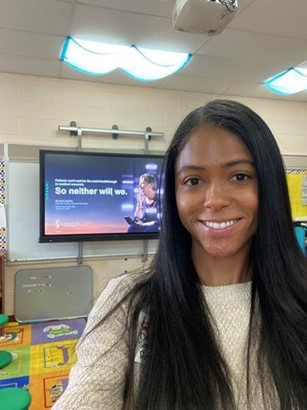 Danielle knows that a fortuitous first job and a supportive mentor helped set her on our journey. And so on International Women and Girls in Science Day, and throughout the year, Danielle works to pay it forward by supporting diversity in science and inspiring girls to become bold women in science.
"I'm a firm believer that diversity is needed in every field, otherwise we risk missing out on creativity and problem-solving," she said. "I jump at the chance to speak to the youth about what I do and how they can do it, too. We should not forget that for hundreds of years women have played a dynamic role in science. Unfortunately, their contributions have not been fully recognized or acknowledged. It's important that girls know the history and become bold women in science."
Sarepta has five employee resource groups (ERGs) that aim to foster an environment where all colleagues feel valued for their unique perspectives and are empowered to contribute to the success of our organization and their personal career growth. The Sarepta Women's Alliance (SWA) works to provide a community of support to facilitate the development of women within Sarepta by boldly empowering women to authentically lead. Learn more about SWA and our other ERGs.