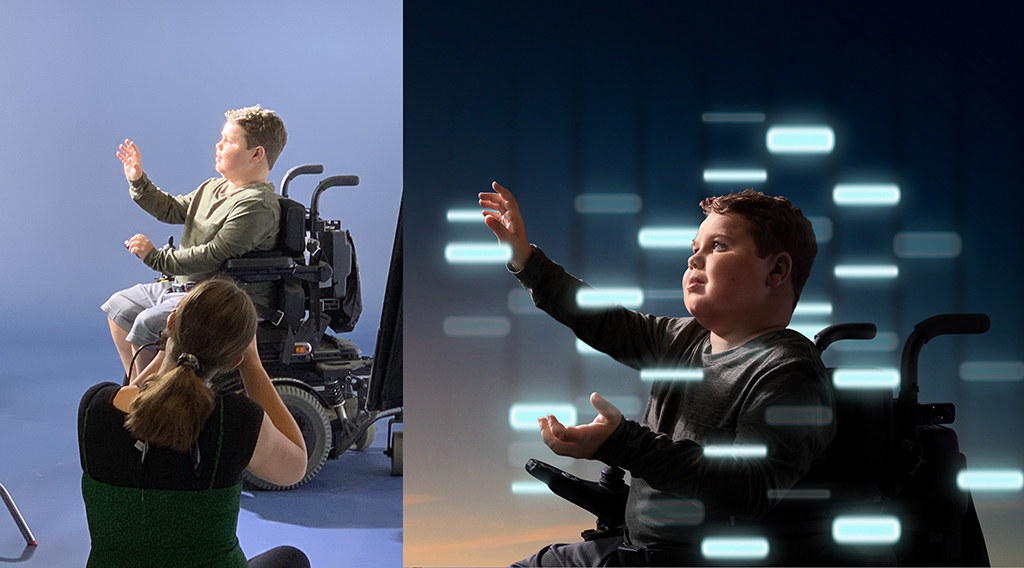 "Drag tomorrow into today." Those powerful words were intentionally chosen as part of Sarepta's new mission statement. For Sarepta employees, the words evoke the urgency of their work on behalf of patients and how that translates to every day decisions when patients are waiting for treatment or cures.  
But building the Sarepta brand and bringing it to life involved more than crafting a new mission statement. The brand needed to reflect who Sarepta is as a company: its bold vision for transforming genetic disease, the willingness and ability to translate that vision into reality, and the creation of an enduring model that above all, serves patients.  
"Our CEO, Doug Ingram, has an incredible passion, energy and drive to help people understand how every single day impacts patients. It's contagious. We have to do something fast," explains Steven Mousterakis, director, creative and corporate branding, Sarepta.  
"Every day, patients lose their independence from neuromuscular and central nervous system diseases. Trying to represent that urgency visually was challenging. We created imagery that focused on movement – through the body and expressions of patients, dramatic colors, and illustrations," Mousterakis says.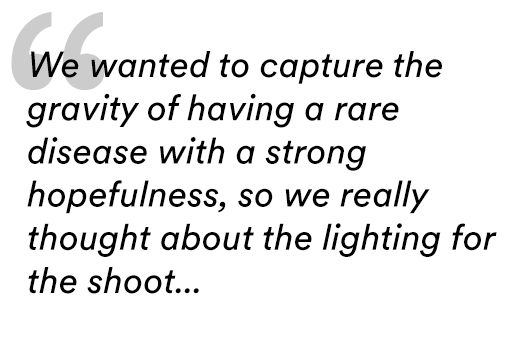 Recreating the company's website was key to ensure that the new brand not only reflected the company's identity but its purpose. The team quickly got to work, hiring New York-based photographer Glynis Carpenter to capture images of patients and their families to visually represent their stories.
Carpenter was chosen for a combination of several attributes. "Her work was beautiful, and the style represented what we wanted to achieve in building the company's brand and bringing to life the company's mission statement to drag tomorrow into today. Most importantly, she had the ability to interact with patients and their families in a way that would make them feel comfortable to capture their movement in whatever way was possible," says Mousterakis.
"We wanted to capture the gravity of having a rare disease with a strong hopefulness, so we really thought about the lighting for the shoot. We used very bright brights and very low lows. The bright brights represented the hope we saw in each individual. It was cinematic and made each person very powerful," says Carpenter.
While Carpenter recalls every person she's ever photographed, she was particularly struck by those who agreed to participate in the photoshoot as a platform for awareness of their disease. It was that sense of advocacy that compelled the Amos family to participate.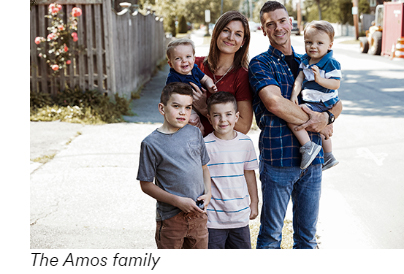 "For us, anything that would get more awareness out there would be helpful," says Kim Amos, whose husband, Ben, and sons Liam (10), Tucker (8), Tobey (1-1/2), and Oliver (1-1/2) all participated. Both Liam and Oliver have Sanfilippo syndrome, or MPS IIIA (Mucopolysaccharidosis), a lysosomal storage disorder in which genetic variations impact the body's ability to break down and recycle molecules such as fats and sugars. The disease is characterized by developmental delays, extreme hyperactivity, seizures, and a lack of mobility.  
"Any company that is working on therapies to treat these children – we're in for that. We're watching kids die from this disease all the time. We'll do anything in our power to help. There's no treatment and no cure right now, so the only thing we can do is be a voice for our children," says Amos.  
It took four days to capture the images of 15 patients ranging in ages from 1-1/2 to 56 with conditions such as Duchenne, various sub-types of limb-girdle muscular dystrophy, MPS IIIA and CMT (Charcot-Marie-Tooth). Preparation was key.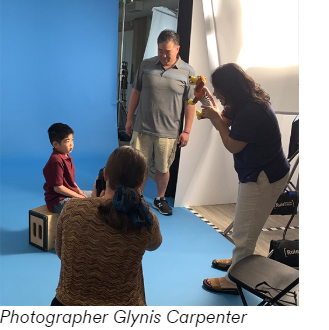 Aside from delivering compelling photography, the goal for the shoot was to ensure everyone had a good, positive experience. "One of the things we talked about ahead of production was making sure everything was set up right to accommodate the needs of families and each individual patient. We wanted to make sure things went smoothly and no one was waiting. Sometimes I seem really laid back on shoots, but I'm not laid back at all. Calm is a hard-won skill. I take full accountability for everyone's experience," Carpenter says.  
Each time a patient or a family arrived, they were given a tour of the studio and shown where everything was to make them feel comfortable. When it was their turn to be photographed, the team worked to engage them in different ways – being silly with children, playing loud music for teens, and making adults laugh.
Having a Sarepta employee who knew the Company and the patient community was critical. Sarepta's Katrina Carey, global senior product manager, worked closely with Carpenter and served as a point of contact for all of the individuals and families.  
"It was an honor getting to know these individuals and bring attention and awareness to those rare diseases on which Sarepta is focused. The work that embodies these photographs represents our collective journey and shared goal, which is to translate scientific innovation into medicines for patients. The experience will be one that will stay with me for a long time," said Carey.  
Families prepared for the day, too. "We told the boys what we were going to do. We got them all handsome and did their hair and picked out their outfits. We packed 2-3 outfits for everyone. We didn't allow them to eat snacks until we got to the set," says Amos.  
"We didn't know what to expect. When we walked in, we felt like we were on a movie set. We were overwhelmed with how professional it was. There was food and snacks – we felt spoiled and important. It was a fun experience and like nothing we have ever done before," adds Amos. "Liam liked having the attention. He thrives in that type of environment."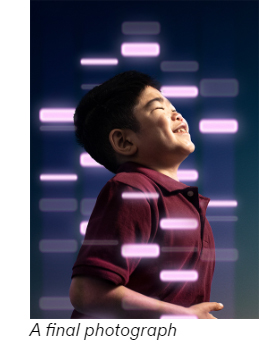 Once the photoshoots were complete, the imagery went into a post-production process where lighting was intensified, sky backgrounds were added, and gel overlays representing genetic protein was combined with the image of the patient. "The basis of genetic disease is that individuals have a missing or non-functioning protein. The concept of the overlay on the photographs was to have the protein envelop the person. The symbolism of connecting genetic medicine to patients made the process and the final images really unique and memorable," says Mousterakis.  
Asked to describe the new brand identity and its representation on the company's website in one word, Mousterakis says: "Luminous."
"Luminosity is the quality of something that gives off brilliant light and allows you to see things in new ways. Symbolically that's what we were trying to achieve," he says.
"Getting pictures of Liam and Oliver, and who they are and their personalities, and having that captured was really cool to see. This is important to us. This is our family. This is what people need to see – to know how much it means to us – to know how important this is to create awareness that ultimately leads to a treatment or a cure," adds Amos.
"There are little tips and tricks to make people more comfortable in front of the camera. It's being empathetically aware of what people are feeling. I prize intuition and quickly notice what people are doing or thinking. Maybe it's empathy. The experience was special," Carpenter recalls. "It was very emotional for everyone who participated, including the crew. We were all impacted by what patients and families were going through and the hope we shared for why they were there."