From early-stage discovery work to manufacturing operations and patient affairs, in offices and labs in Massachusetts and Ohio, Sarepta's 2022 summer interns touched nearly every function of the organization and genetic-medicine development.
Through this annual program, Sarepta offers internships for college and graduate students majoring in STEM as well as non-science disciplines. Interns are introduced to Sarepta's business, research and culture through hands-on learning and a seminar series that exposes them to the roles and responsibilities of major functions within a biotech company. "The internship is one example of Sarepta's commitment to support a diverse talent pipeline and foster enthusiasm for careers in life sciences," said Molly Carver, a Talent Acquisition coordinator who oversaw this year's intern program. 
We spoke to a few of our 2022 interns to hear what they learned over the 12-week program and how the experience shaped their view of careers in life sciences.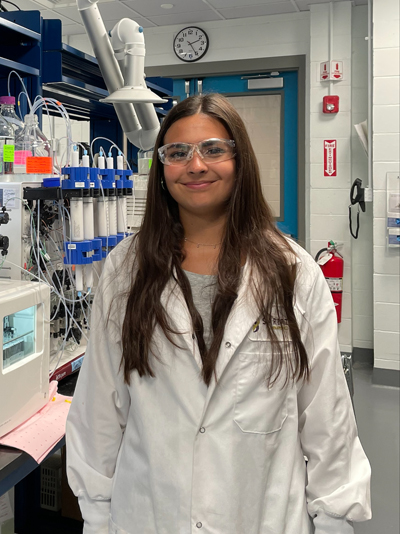 Marisa Cofone, Research Manufacturing intern
University: University of Massachusetts, Amherst
Degree program: B.S. in Chemical Engineering

The internship experience at Sarepta allowed me to get hands-on lab experience in a fast-paced environment. I was able to work on various projects supporting a clinical trial this summer. We were able to implement many process improvements throughout the summer as I worked on the projects, which is beneficial to long-term growth in the group.  I was also able to learn about different employees' roles and how they contribute to the drug pipeline. This internship has been very exciting and a great look into the biotech industry!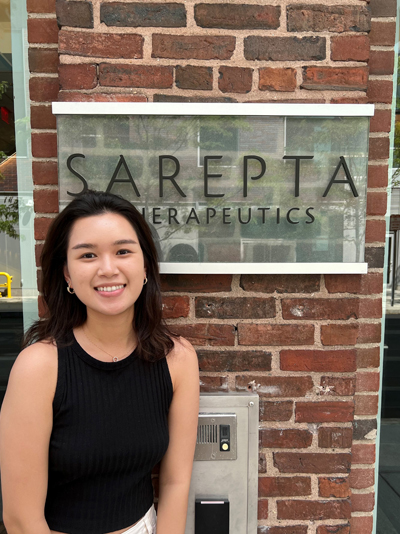 Rebekah He, Corporate Affairs intern
University: Northeastern University
Degree program: M.S. in Corporate and Organizational Communication

Maintaining a good relationship with external resources, helping integrate internal communication, and guiding internal and external communications to achieve Sarepta's goal were critical in my daily tasks. I also had the opportunity to get a lot of hands-on experience monitoring media coverage and content development, and I initiated projects to support department goals. I felt inspired and motivated by the culture of putting patients first, and everyone on the team putting efforts into reaching the mission.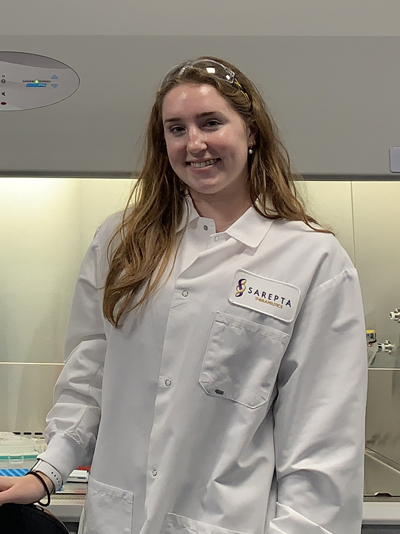 Kate Johnson, Drug Product Development intern
University: Boston College
Degree program: B.S. in Neuroscience

I think the biggest takeaway from this internship is how much thought, time and effort goes into creating and producing drug products. It was interesting to see how everyone in the company comes together to contribute to create such an outstanding outcome. Sarepta's commitment to its patients was the first thing impressed upon me during orientation. This mission remains a clear focus throughout Sarepta, from the photographs of patients around the facility that serve as a daily reminder of our commitment, to company meetings providing updates in research progress and the impact that our work has had for others. Sarepta has a culture that is so inspiring, positive and amazing to be a part of, and I really hope that I'll be able to work at a place like this once I'm out of college.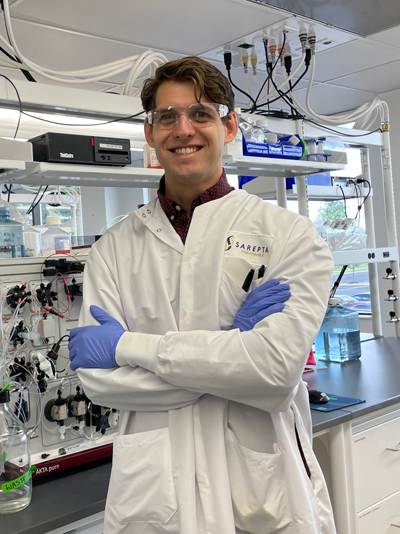 Ethan Pozy, Bioprocessing Research intern
University: The Ohio State University
Degree program: B.S. in Biomedical Engineering

Our team worked to develop the methods to produce and purify Sarepta's new gene therapies using unit operations that can later be scaled-up for commercial production. The most challenging project of my internship was working to develop high-throughput chromatography purification methods. I love the work that I have done here with Sarepta, and it has fueled my ambitions for a future career in science. I know that the work that I am doing in this field will make a real-world difference for patients and their families. As this internship has been wrapping up, I have been inspired to look into how I can refine the remainder of my college curriculum to enable a career in biotechnology.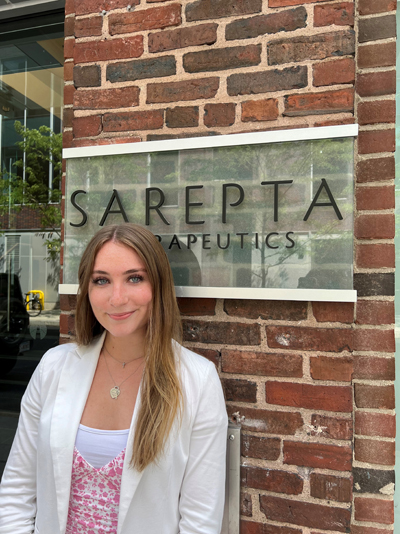 Katherine Sinars, Patient Affairs intern
University: Boston College
Degree program: B.S. in Neuroscience

I was fortunate enough to attend a [patient advocacy organization] annual conference. Sarepta had a fantastic team in attendance, and I got to meet employees from around the country who all shared the same goal: to help individuals living with Duchenne. I think the most valuable lesson I will take away from this internship is solidifying that this is where my passion lies. I want to be at the forefront of life-changing therapies, I want to get to work first-hand with families and I want to be a part of a team where everyone has the same mission. Sarepta has been an amazing experience for me and has taught me lessons I will take into my future endeavors!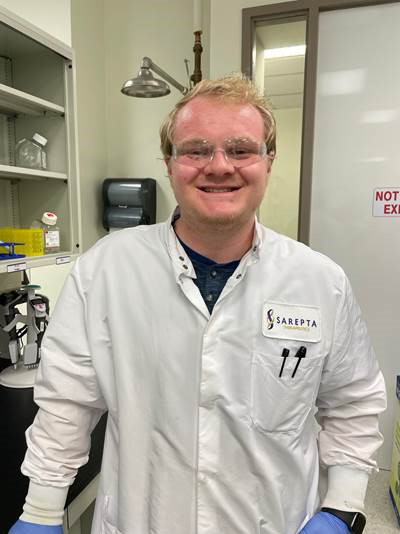 Carter Stedtefeld, Research intern, Immunology
University: The Ohio State University
Degree program: B.S. in Biology

My internship at Sarepta has been eye opening and exposed me to a variety of scientific departments in gene therapy. All of the moving components help to show you how complex everything is and how much time and effort it takes to make things work smoothly around the lab. Sarepta made me feel like I was cared about just as much as the patients and pushed me to be the best version of myself. My biggest takeaway from this internship is that it is ok to make mistakes and fail, as that is a lot of what science is. However, it is not ok to fail and not learn from it. We learn the most from the things that go wrong, but it is important to learn from failures to make ourselves and our work better in the future.  
Useful links