The co-lead of Sarepta Pride, the employee resource group for LGBTQIA+ colleagues and allies, discusses what inclusivity looks like, what belonging feels like and why representation matters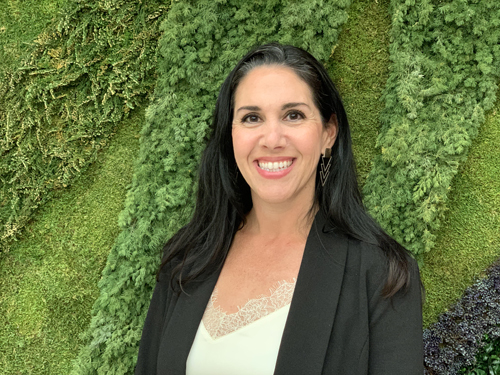 Samantha Parker joined Sarepta as an administrative assistant in the fall of 2020, when the pandemic lockdowns were still in place and most colleagues were working from home. She came to know her new co-workers – and they her – only from the shoulders up; talking heads in square boxes on video calls. And yet, Samantha said she has never felt more seen and understood in the workplace.  
Over the years, Samantha, who is a member of the LGBTQIA+ community, became accustomed to shielding her true self from work colleagues. "You learn to keep little bits of yourself hidden," she explained. "Every time you come out to a co-worker, you pause and hold your breath. Can I be myself with that person? Are they going to be cool? It's like being on eggshells all the time, this scanning for safety. It's constant. And it's terrifying."
But at Sarepta, Samantha feels comfortable sharing details about herself and her life – a life that includes her partner, a 12-year-old son, and a passion for defending and advancing LGBTQIA+ rights. From minor gestures, such as rainbow masks provided to employees during a COVID-friendly Pride celebration, to more significant initiatives like updating policies and benefits and investing in company-wide trainings, Samantha sees Sarepta demonstrating its commitment to diversity and inclusion. And that helps her confidently bring her authentic self to work each day.
"It's so freeing to be able to focus entirely on what you're trying to achieve and not spend energy hiding certain things," Samantha said. "If you work at a place that loves you for you, and values you for you, all of that noise gets to be put aside, and your beautiful brain and innovative thoughts can come forward."
"Tell me more"
Samantha serves as co-lead of Sarepta Pride, the employee resource group for colleagues who identify as LGBTQIA+ and their allies. Pride was created to give colleagues and allies a forum in which to promote a dynamic, welcoming and friendly atmosphere; and the group helps to advance inclusive policies and programs. For example, Pride members initiated an effort to add an adoption and surrogacy reimbursement benefit. 
Sarepta leadership has identified diversity as a corporate strength and a business advantage, and Samantha said she sees commitment to do more than pay lip service to issues important to the LGBTQIA+ community. 
"There is a sense there is a true open-door policy, and we are welcome to bring our ideas to the executive committee's attention," Samantha said. "I've never been met with anything other than, 'tell me more.' People don't always know why there is an issue, but I see leadership on a mission to understand. And that's huge."
That little spark that could change everything
Creating an environment where everyone feels comfortable and supported is especially important in a company like Sarepta, Samantha said. "We're trying to make the world a better place for people impacted by devastating diseases," she explained. "You could be that person out there who has a great idea – that little spark that changes everything – but if you don't see there are people like you, or if you don't feel comfortable showing your true self, you might pass us by. Or you might never speak up. Representation really matters."